Mental Health Issues in the Legal Profession
On November 23, 2020, Cohen and Wolf welcomed Attorney James Carlon, for an impactful Lunch & Learn session about Mental Health Issues in the Legal Profession. Attorney Carlon is the founder and current chairman of the Fairfield County Bar Association's Wellness Committee whose mission is to: (i) educate legal professionals about mental health issues in the legal workplace; (ii) advocate for those affected by mental health, and to destigmatize mental health challenges affecting attorneys and other legal professionals; and (iii) to provide support and resources for those suffering (often in silence).
During our session, Attorney Carlon emphasized the importance of mental health awareness for the modern and diverse legal workforce. He explained the causes and types of certain mental illnesses, and focused on identifying risk factors for attorneys as a causative factor. He also explored the nexus between mental health awareness and the diverse workplace.
Attorney Carlon is a partner of Diserio Martin in Stamford. He served in the Army Reserves as a JAG Officer, and was honorably discharged in 2019. Attorney Carlon is a 1996 graduate of Fairfield University, and received his Juris Doctor in 1999 from New York Law School where he was an editor of the New York Law School Law Review. He lives in Weston, Connecticut with his two children, Thomas and Andrew, and their dog Sadie.
This event helped build awareness around issues that many lawyers and others in the legal profession are dealing with, often silently. Attorney Carlon's candor and insight ensured the success of this Lunch & Learn.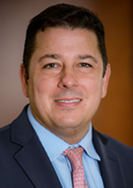 Attorney James Carlon