Cohen and Wolf Joined by Shane Diamond to Celebrate Pride Month 2021
In celebration of LGBTQ+ Pride Month 2021, Cohen and Wolf's Diversity, Equity and Inclusion Committee continued its Lunch & Learn Series on June 24, 2021. Cohen and Wolf was thrilled to be joined by Shane Diamond, an esteemed educator, transgender advocate, communications professional and former athlete. Shane led an impactful discussion regarding his own experiences, recent legislation targeting transgender rights, and ways in which we can all continue to strive towards allyship.
Shane currently serves as the Impact Campaign Manager for Changing the Game, a documentary that can be found on Hulu that follows transgender high school athletes from across the country. In this role, Shane develops educational materials, builds coalitions for inclusion, and engages communities to talk about the stories represented in the film. Shane has also led local, statewide, and national communications efforts for the Transgender Legal Defense & Educational Fund, EqualityMaine, and Speak About It, Inc. Shane was featured as one of Maine Magazine's 50 Mainers Balancing Heritage and Progress, was spotlighted at MaineLive, and most recently shared his own inspirational story of survival through sports with them.
The Firm is extremely grateful to Shane for joining our Lunch & Learn Series and making this one of our most influential discussions to date.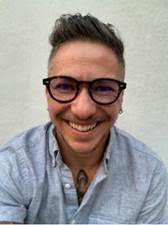 Shane Diamond